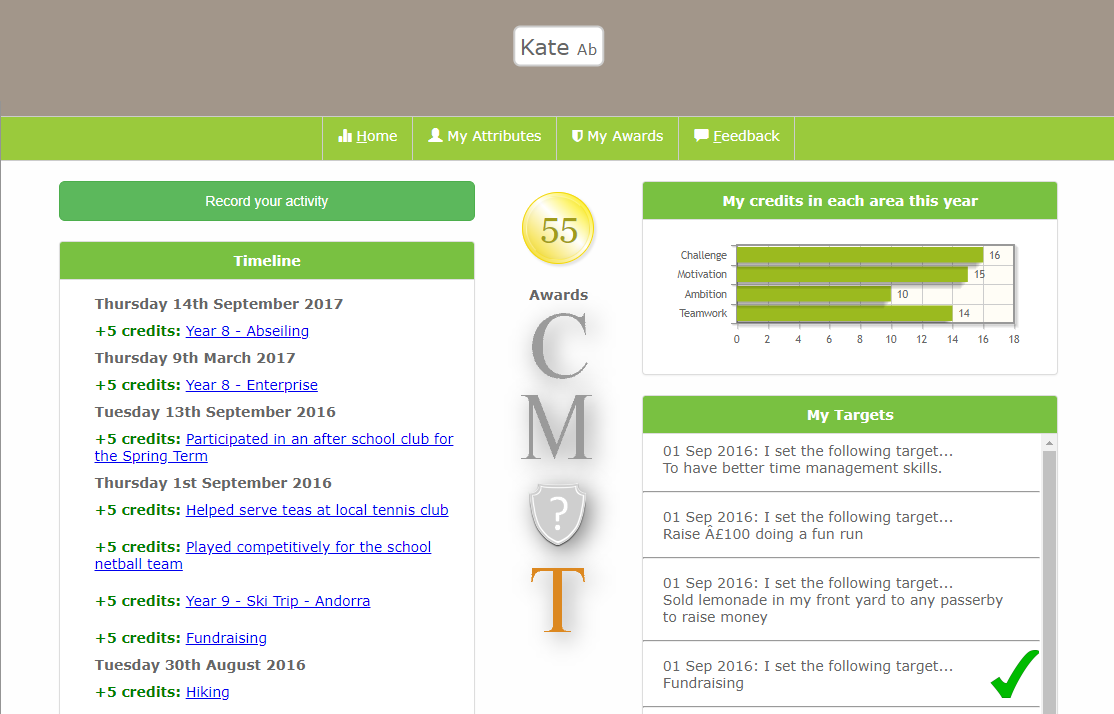 Character Building Systems
Develop students' attributes using our character building systems.  Thereby supporting a growth mindset in your school.
Using the system, teachers and school leaders can identify their students' strengths and weaknesses.  Following this, they can plan appropriate activities to maximize the development of pupils' attributes and character.
So why build students' character in your school?  The "Educational Excellence Everywhere" white paper (March 2016) states that the government will support schools that use "evidence-based character building opportunities" and "deliver a new round of Character Awards, recognizing the schools and organisations, which are most successful in supporting children to develop key character traits."  Most of all, we think it is a great way to prepare children for life.
How does it work?
Students using our systems are encouraged to take part in more activities in and outside of school.  First of all, the system identifies students' strengths and areas for development.  It is only natural for students to be drawn towards activities that play to their strengths.  However, this can lead to other areas of their character being neglected.  As a result, the system can prompt students to attempt new activities that will develop these other attributes. Attributes can be selected by the school but may include any of the following:
Ambition
Application
Appreciation
Attendance
Awareness
Balanced
Care
Collaborative
Commitment
Communication
Compassion
Comprehension
Confidence
Co-operation
Courteous
Courage
Critical Thinking
Curiosity
Determination
Discipline
Diversity
Empathy
Entrepreneurship
Fairness
Forgiveness
Friendship
Generosity
Gratitude
Honesty
Humility
Humour
Inclusive
Independence
Inquiry
Integrity
Judgement
Kindness
Knowledge
Leadership
Learning
Love
Loyalty
Motivation
Open-mindedness
Optimism
Patience
Persistence
Planning
Positivity
Pride
Problem Solving
Professionalism
Punctuality
Reasonableness
Reflective
Resilience
Resourcefulness
Respect
Responsibility
Risk aware
Safety
Self Esteem
Self regulation
Self-control
Sensitivity
Service
Stamina
Success
Taking Responsibility
Tenacity
Tolerance
Trust
Unity
Versatility
Volunteering
Furthermore, students can to set targets to improve their attributes and reflect on their progress over time.  Thus, the system supports a growth mindset ethos in students.  It teaches them that their basic abilities can be developed through hard work and dedication.
What activities can be recorded?
The school can add as many predefined activities as desired.  Each activity can be assigned a fixed number of attributes / credits.  If the activity has not been predefined, pupils and staff can be allowed to record it as an other activity.
How it works in practice
Students record activities they take part in, which may be in or outside of school.  Alternatively, staff can record pupils' activities.  If a pupil has recorded an activity, the system may send an email to the member of staff responsible for that activity, or the pupil's tutor / teacher.  The email will give the member of staff the opportunity to verify that the pupil did complete the activity.  This can be as simple as clicking a "verify" link in the email.
Next, the system measures the impact of activities on a student's character.  Each activity is assigned a number of credits.  Each credit gives weight to an attribute that is developed by the activity.  For example, a visit to a careers fair has 4 credits.  1 credit for ambition, 1 credit for communication, 1 credit for honesty and 1 credit for open-mindedness.  Consequently, the system may prompt students to undertake other activities in areas where they are lacking evidence for given attributes.  If a student is looking to develop their courage, the system may suggest abseiling.  As a result, the student may then set abseiling as a target.
From there on, the student can use the system to record and reflect on their progress towards meeting that target.
For more information, or a free demo, please contact us.